Download Product Description
Download CSAMT demo database
Download Land CSEM demo database
(works with our EMIGMA Demo)
The CSEM/CSAMT software package is available as part of EMIGMA EM for Oil and Gas, as a standalone product or an add-on to other EMIGMA software licenses.
In some communities, land controlled source surveys, are termed CSAMT and here the electric and magnetic fields are most often provided as a ratio or impedance for interpretation. In other communities, these surveys are termed CSEM, and in these communities the fields are used independently mirroring the older LOTEM surveys. EMIGMA may deal with all of these individual peculiarities between different paradigms.
Unlimited survey size!
Data Import
ASCII and QCTool imports
Native Zonge and Phoenix imports
Data Processing and Correction
1D digital and spatial filters - Mean, Median, Gaussian and Savitzky-Golay
Smoothing and Decimation
Data Corrector tool combining dynamic spreadsheets and a line plotter for data cleaning, missing data interpolation and simultaneous plotting of different data channels for fast cross-analysis
Geophysical survey merging
3D Modeling
3D simulations of any compbination of E fields, H fields and Z impedance
Model suite generation and batch mode
Unlimited prism, plate and polyhedra targets
Multiple body interactions
Modeling of topography effects
Ability to handle full contrast between host and bodies
Interactive 3D geophysical model building tool
3D CSEM/CSAMT Inversion
Inversion includes not only the inversion algorithm but also a corresponding forward algorithm used in the inversion process. Two forward algorithms are provided for weak and strong scattering.
Joint inversion of scalar E and H or vector E and H as well as multiple transmitters
1D CSEM/CSAMT Inversion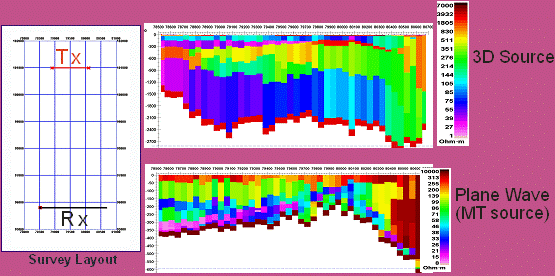 Smooth Occam technique with fixed layer thickness
Underparametrized Marquardt technique with full resistivity and thickness constraints
Invert for E field, H field or Z impedance using the 3D source
User defined starting model and inversion parameters
Data Display and Analyses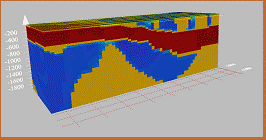 3D data display as profiles, vectors, true 3D surfaces or contoured surface with 3D structure representation
Section cutting of 3D model displays in the 3D Visualizer
Pseudo-sections, depth images
PEXShow tool - 2D representation of Resistivity/CSAMT inversions with easy-to-switch-to susceptibility and conductivity sections
PseudoSection tool
Grids: Natural Neighbor, Delauney Triangulation, Minimum Curvature and Thin-Plate-Splines
Contours: 2D and 3D surfaces
Line plots
Residual plots
For more detailed data display capabilities, see EMIGMA Complete
Last updated Aug 11, 2022